Mako Mining Intersects 98.50 g/t Au and 66.3 g/t Ag over 1.9m (Estimated True Width) 39m from Surface at the San Albino SW Pit
January 5, 2023
Mako Mining Corp. (TSX-V: MKO; OTCQX: MAKOF) ("Mako" or the "Company") is pleased to report additional high-grade drill results from an area located approximately 50 meters ("m") southwest of the current open pit mining operations at the San Albino West Pit in northern Nicaragua (the "SW Pit").
Recent drilling has focused on near surface, high grade gold mineralization in the SW Pit area within and proximal to the currently permitted pit limits. Results of drilling in this area are confirming multiple high grade shallow zones. In 2022, a total of 16,472m in 126 drill holes have been completed in the SW Pit area.
Highlights of selected intercepts of the high-grade gold mineralization include:
98.50 g/t Au and 66.3 g/t Ag over 1.9m (Estimated True Width – "ETW")
including 168.30 g/t Au and 110.0 g/t Ag over 1.1m
52.66 g/t Au and 47.2 g/t Ag over 2.0m (1.9m ETW)
including 78.14 g/t Au and 69.6 g/t Ag over 1.2m
31.32 g/t Au and 76.1 g/t Ag over 1.3m (1.1m ETW)
24.35 g/t Au and 31.0 g/t Ag over 2.1m (1.6m ETW)
Akiba Leisman, CEO of Mako states: "the SW Pit is shaping up to be a shallow, high-grade zone within 50-100 m of the mining operations at San Albino. Last year we were able to extend the mineralized zone underneath our mining contractor's workshop, by hitting 42.9 g/t Au over 4.1m ETW 36m from surface, and now we have been able to extend this zone with multiple high-grade intercepts, over higher than average widths, along strike, and up and down dip. Currently, there exists a minimal resource at the SW Pit, which the Company is in the process of updating, and we aim to begin mining the SW Pit over the course of the next few months."
Details of selected intersects:
Several holes were designed to test the continuity of mineralization along strike and dip of diamond drill hole SA22-615 (see attached drill plan) which intersected three shallow zones: an upper zone of 1.44 g/t Au and 30.7 g/t Ag over 0.50m at 30m below surface, a high-grade, main zone of 42.91 g/t Au and 38.3 g/t Ag over 4.50m (4.1m ETW) at 36m below surface, and a lower zone of 15.68 g/t Au and 7.4 g/t Ag over 1.90m (1.9m ETW) at 60m below surface (see press release dated June 21, 2022).
Drill hole SA22-692 intersected an interval of high-grade, near surface gold mineralization of 98.50 g/t Au and 66.3 g/t Ag over 1.9m (ETW), 39m below surface (see attached cross section and drill hole plan). This corresponds to the main zone intersected in hole SA22-615 approximately 57m up-dip.
SA22-689 intersected 52.66 g/t Au and 47.2 g/t Ag over 2.0m (1.9m ETW), approximately 64m below surface and 3.55 g/t Au and 12.1 g/t Ag over 2.3m (1.5m ETW), at a vertical distance of 46m from surface. This hole intersected the lower zone approximately 14m downdip from SA22-615.
Diamond drill hole SA22-676 intersected 31.32 g/t Au and 76.1 g/t Ag over 1.3m (1.1m ETW), approximately 35m from surface, and diamond drill hole SA22-673 intersected 24.35 g/t Au and 31.0 g/t Ag over 2.1m (1.6m ETW), 22m from surface. Both holes were drilled to test the strike continuity of the upper mineralized zone encountered in hole SA22-615. Drill intersects are located 124m and 104m respectively along strike.
In addition, the Company completed a reconnaissance drill program to test for mineralization across a major NW trending fault in an area of no previous drilling (see drill plan and table below). Eight diamond drill holes were completed, three drill holes intersected mineralized intervals above an internal cutoff grade (1.0 g/t Au). The rest of the drill holes intersected areas disturbed by faulting and/or were intruded by late andesitic dykes at the projected depth. The Company intends to continue testing the projected extension further to the southwest.
Table 1: Assay Results Reported in This Press Release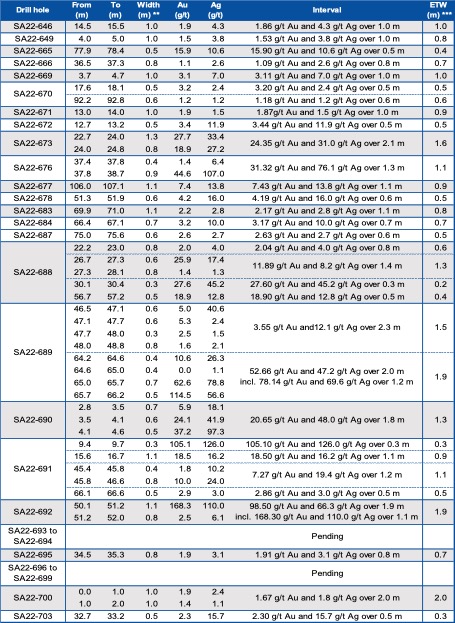 Note: The mineralized intervals shown above utilize a 1.0 g/t gold cut-off grade with not more than 1.0m of internal dilution. *Widths are reported as drill core lengths. **Estimated True Width is estimated from interpreted sections. In addition to the drill holes presented in the table above, the following drill holes returned only anomalous values: SA22-630, SA22-638, SA22-639, SA22-641, SA22-643, SA22-644, SA22-645, SA22-647, SA22-648, SA22-664, SA22-667, SA22-668, SA22-674, SA22-675, SA22-679, SA22-680, SA22-682, SA22-685, SA22-701, SA22-702, SA22-705 and SA22-706. In addition to the drill holes presented in the table above the following drill holes returned no significant values: SA22-640, SA22-642, SA22-681, SA22-686 and SA22-704.
Figure 1. San Albino Mine Drilling Program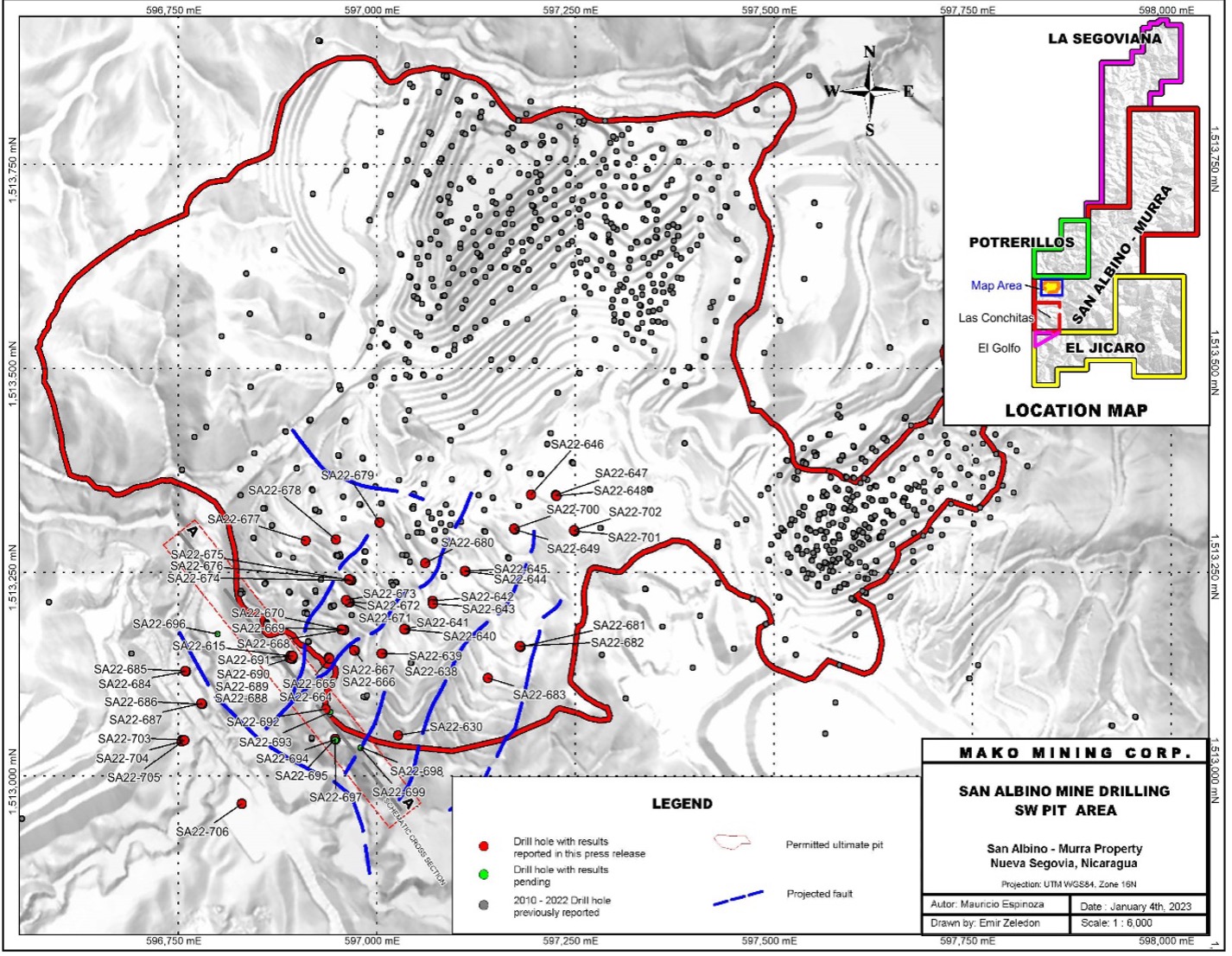 Figure 2. Schematic Longitudinal Section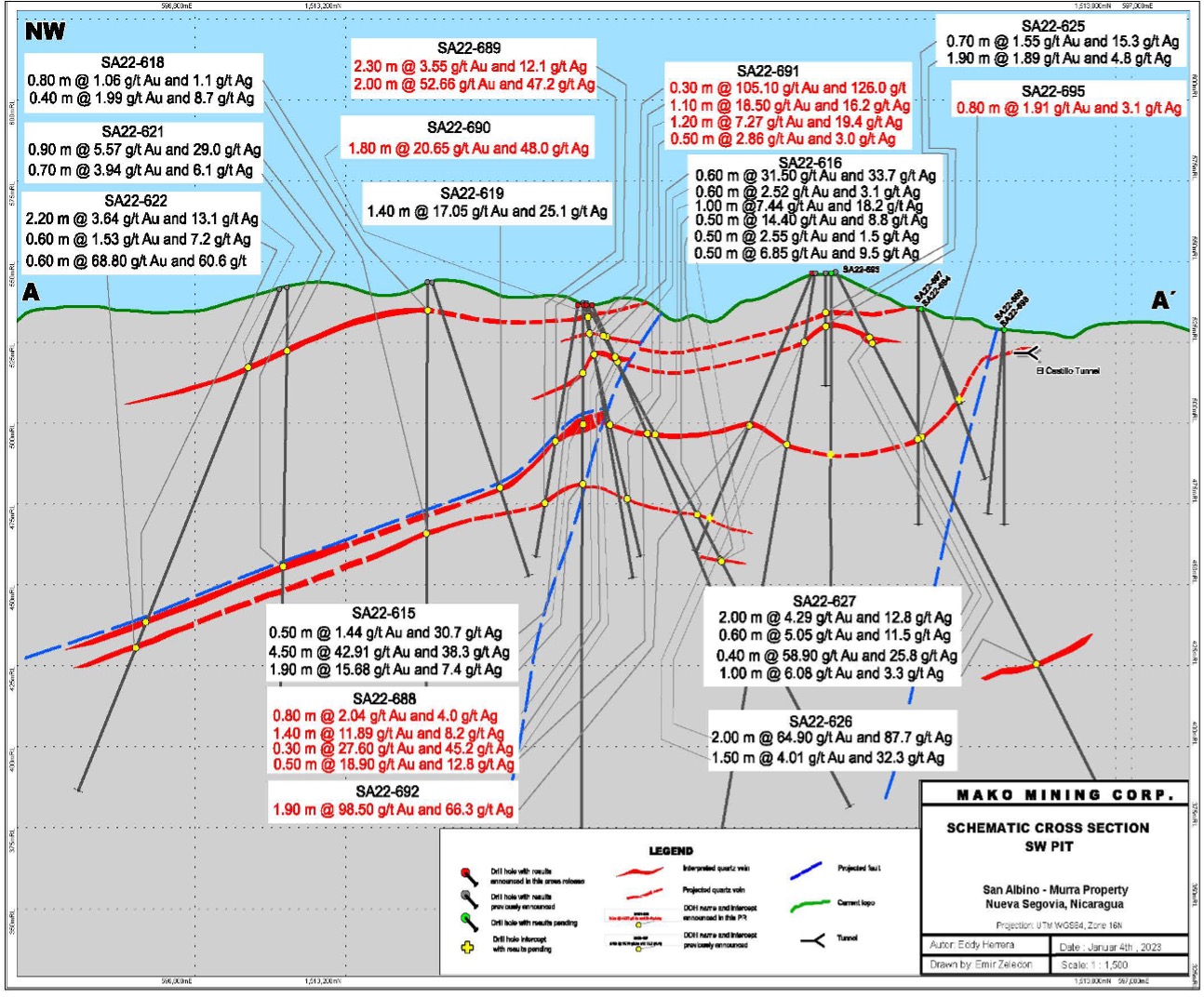 Sampling, Assaying, QA/QC and Data Verification
Drill core was continuously sampled from inception to termination of the entire drill hole. Sample intervals were typically one meter. Drill core diameter was HQ (6.35 centimeters). Geologic and geotechnical data was captured into a digital database, core was photographed, then one-half split of the core was collected for analysis and one-half was retained in the core library. Drill core samples were kept in a secured logging and storage facility until such time that they were delivered to the Managua facilities of Bureau Veritas and pulps were sent to the Bureau Veritas laboratory in Vancouver for analysis. Gold was analyzed by standard fire assay fusion, 30 gr aliquot, AAS finish. Samples returning over 10.0 g/t gold are analyzed utilizing standard Fire Assay-Gravimetric method. The Company follows industry standards in its QA&QC procedures. Control samples consisting of duplicates, standards and blanks were inserted into the sample stream at a ratio of 1 control sample per every 10 samples. Analytical results of control samples confirmed reliability of the assay data.
Qualified Person
John M. Kowalchuk, P.Geo, a geologist and qualified person (as defined under NI 43-101) has read and approved the technical information contained in this press release. Mr. Kowalchuk is a senior geologist and a consultant to the Company.
On behalf of the Board,
Akiba Leisman
CEO
About Mako
Mako Mining Corp. is a publicly listed gold mining, development and exploration company. The Company operates the high-grade San Albino gold mine in Nueva Segovia, Nicaragua, which ranks as one of the highest-grade open pit gold mines globally. Mako's primary objective is to operate San Albino profitably and fund exploration of prospective targets on its district-scale land package.
For further information: Mako Mining Corp., Akiba Leisman, Chief Executive Officer, Telephone: 203-862-7059, E-mail: aleisman@makominingcorp.com or visit our website at www.makominingcorp.com and SEDAR www.sedar.com.
Forward-Looking Information:
Statements contained herein, other than historical fact, may be considered "forward-looking information" within the meaning of applicable securities laws. The forward-looking information contained herein is based on the Company's plans and certain expectations and assumptions, and includes, without limitation, the objectives of the SW Pit drilling program; that management believes that an increase in the mineral resources at the SW Pit area at San Albino is likely as a result of the drilling program; the Company is in the process of updating and aims to begin mining in the SW Pit over the course of the next few months; further drilling could lead to an increase in the scale of the SW Pit if continuity is proven; and that the Company can operate San Albino profitably in order to fund exploration of prospective targets on its district-scale land package. Such forward-looking information is subject to a variety of risks and uncertainties which could cause actual events or results to differ materially from those reflected in the forward-looking information, including, without limitation, the risk that the ongoing results of the drilling program do not result in a significant increase in scale of the SW Pit or mineral resources at the SW Pit area; that the SW Pit does not become the Company's next mining area; political risks and uncertainties involving the Company's exploration properties; the inherent uncertainty of cost estimates and the potential for unexpected costs and expense; commodity price fluctuations and other risks and uncertainties as disclosed in the Company's public disclosure filings on SEDAR at www.sedar.com. Such information contained herein represents management's best judgment as of the date hereof, based on information currently available and is included for the purposes of providing investors with the Company's expectations regarding the Company's drilling program at San Albino gold project, and may not be appropriate for other purposes. Mako does not undertake to update any forward-looking information, except in accordance with applicable securities laws.
Neither the TSX Venture Exchange nor its Regulation Services Provider (as that term is defined in the policies of the TSX Venture Exchange) accepts responsibility for the adequacy or accuracy of this release.