Mako Mining Intersects 30.45 g/t Au over 4.5m (Estimated True Width) at Las Conchitas, 13m from Surface; Announces Commencement of Las Conchitas Processing
July 27, 2023
Mako Mining Corp. (TSX-V: MKO; OTCQX: MAKOF) ("Mako" or the "Company") is pleased to announce the commencement of Las Conchitas material processing, and results from the reverse circulation (RC) infill drilling completed at Las Conchitas, located immediately south of the company's San Albino gold mine, which is currently in commercial production.
In the 2023 drilling campaign, 211 RC holes have been completed totaling approximately 8,000 meters (see table and drill plan below). One of the main objectives of the near-surface, infill drilling campaign is to gain a higher level of confidence of the geometry of the mineralization within six areas of interest where the Company has received a permit to process material through the San Albino plant ("Las Conchitas Permit" see press release of June 19, 2023). The second objective is to test possible extensions of the high-grade mineralized blocks and mineralization trends identified in the 2022 drilling campaign. The Company has received assay results from 82 drill holes from two areas located in the northern portion of Las Conchitas ("LC-N") from the San Pablo and Mina Francisco zones.
Mining of mineralized material began at LC-N early in July as a part of a metallurgical program to optimize the blend of the mill feed, and processing material originating from LC-N has begun. The Company has been processing material exclusively from the San Albino area, leading to run-of mine diluted vein percentages of mill feed of approximately 35% instead of the normal 50% threshold. Material from Las Conchitas will allow the Company to continue producing at the 50% threshold as soon as mining at Las Conchitas ramps up. The Company is finalizing its maiden resource at Las Conchitas and has begun mining from an interim five-year open pit mine plan, which will be further refined after the Las Conchitas resource is published later this quarter.
The southern portion of Las Conchitas ("LC-S") contains the best known mineralization at Las Conchitas. Results from LC-S will be released in August after assays are received from the laboratory.
Highlights
Approximately 8,000 m of infill RC drilling has been completed in addition to over 78,000 m of diamond drilling at Las Conchitas
Exceptional highlights include:
Mina Francisco area:
30.45 g/t Au and 17.6 g/t Ag over 5.0 m (4.5m ETW); and
31.74 g/t Au and 14.1 g/t Ag over 4.0 m (3.3m ETW)
San Pablo area:
21.47 g/t Au and 17.1 g/t Ag over 2.0 m (ETW)
Newly intersected higher-grade zones demonstrate potential to enhance the model and Mineral Resource Estimate (MRE) which is expected in Q3 2023
Akiba Leisman, CEO of Mako states, "the commencement of Las Conchitas material processing is an extremely important milestone for the Company. Recently, the mill has been processing a smaller percentage of high-grade diluted vein material than the planned 50% threshold. As Las Conchitas ramps up, this will quickly revert to normal. The grades we have at LC-N, including multiple, relatively wide, near surface intercepts of over 30 grams per tonne, confirm that Las Conchitas is a high-grade open pit mine, with the potential for a significant high-grade underground resource expected to be published this quarter. LC-N was chosen as our first mining area due to its proximity to infrastructure, however the LC-S area is qualitatively better. Results from LC-S will be made available over the next few weeks as results are received from the laboratory."
The infill drill holes targeted shallow dipping, close to surface, high grade gold mineralization. Drill hole spacing is approximately 15 meters and depths ranged from 10 to 50 meters. Most of the drillholes were vertical and targeted to intersect the mineralization at near true thickness.
At Mina Francisco area, several drill holes were designed to intersect the down dip extension of a high-grade block previously identified in the 2022 drilling campaign. Drill hole LC23-RC65 intersected 30.45 g/t Au and 17.6 g/t Ag over 5.0 m (4.5 m ETW) and LC23-RC59 intersected 31.74 g/t Au and 14.1 g/t Ag over 4.0 m (3.3 m ETW), at 31 m and 75 m down dip respectively from the projected surface exposure, confirming the high-grade gold mineralization is open to the northwest.
Drilling of the San Pablo area was also intended to improve the delineation of the shallow vein geometry. Results from drilling are consistent with expectations. An angled drill hole LC22-RC08 intersected an interval of 21.47 g/t Au and 17.1 g/t Ag over 2.0 m (ETW), 29 m vertically from surface. Vertical drill hole LC22-RC07, collared at the same drill pad, intersected 15.50 g/t Au and 10.9 g/t Ag over 1.0 m (0.9 m ETW), which confirmed significant down dip continuity of 45 m from the surface exposure.
Based on the results of the 2023 infill drill program, a revised geologic model will be generated and incorporated into a new, updated resource block model and the Company's mining engineers will use them to optimize the mine plan and development schedule.
Table - Assay Results Reported in This Press Release

Note: The mineralized intervals shown above utilize a 1.0 g/t gold cut-off grade with not more than 1.0m of internal dilution. *Widths are reported as drill hole lengths. True width is estimated to be between 80% and 100% of the downhole width. In addition to the drill holes presented in the table above, the following drill holes returned only anomalous values: LC23-RC11, LC23-RC13, LC23-RC14, LC23-RC23, LC23-RC32 to LC23-RC34, LC23-RC45, LC23-RC46, LC23-RC50, LC23-RC51, LC23-RC62, LC23-RC68, LC23-RC73, LC23-RC76 and LC23-RC78. In addition to the drill holes presented in the table above, the following drill holes returned no significant values: LC23-RC16, LC23-RC31, LC23-RC37, LC23-RC43, LC23-RC44, LC23-RC47 to LC23-RC49, LC23-RC52 to LC23-RC54, LC23-RC57, LC23-RC60, LC23-RC66, LC23-RC77 and LC23-RC82.
Figure - Drill Hole Plan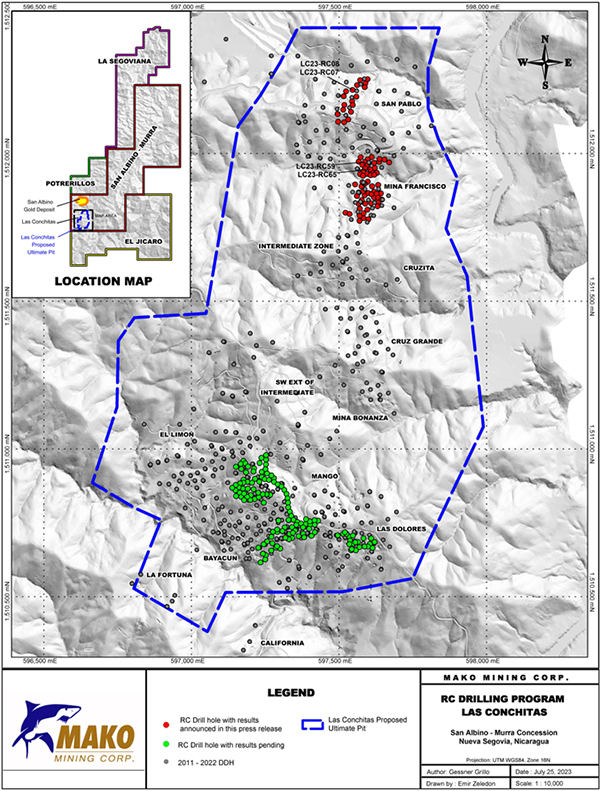 Qualified Person
John M. Kowalchuk, P.Geo, a geologist and qualified person (as defined under NI 43-101) has read and approved the technical information contained in this press release. Mr. Kowalchuk is a senior geologist and a consultant to the Company.
On behalf of the Board,
Akiba Leisman
Chief Executive Officer
About Mako
Mako Mining Corp. is a publicly listed gold mining, development and exploration company. The Company operates the high-grade San Albino gold mine in Nueva Segovia, Nicaragua, which ranks as one of the highest-grade open pit gold mines globally. Mako's primary objective is to operate San Albino profitably and fund exploration of prospective targets on its district-scale land package.
For further information: Mako Mining Corp., Akiba Leisman, Chief Executive Officer, Telephone: 917-558-5289, E-mail: aleisman@makominingcorp.com or visit our website at www.makominingcorp.com and SEDAR www.sedar.com.
Forward-Looking Information: Some of the statements contained herein may be considered "forward-looking information" within the meaning of applicable securities laws. Forward-looking information can be identified by words such as, without limitation, "estimate", "project", "believe", "anticipate", "intend", "expect", "plan", "predict", "may" or "should" or variations thereon or comparable terminology. The forward-looking information contained herein reflects the Company's current beliefs and expectations, based on management's reasonable assumptions, and includes, without limitation, that the Company's maiden resources at Las Conchitas (expected to be published by the end of the quarter) will allow Mako to generate a 5-year interim mining plan. Mako's primary objective to operate San Albino profitably and fund exploration of prospective targets on its district-scale land package. Such forward-looking information is subject to a variety of risks and uncertainties which could cause actual events or results to differ materially from those reflected in the forward-looking information, including, without limitation, changes in the Company's exploration and development plans and growth parameters and its ability to fund its growth to reach its expected new record production numbers; unanticipated costs; the October 24 measures having impacts on business operations not current expected, or new sanctions being imposed by the U.S. Treasury Department or other government entity in Nicaragua in the future; and other risks and uncertainties as disclosed in the Company's public disclosure filings on SEDAR at www.sedar.com. Such information contained herein represents management's best judgment as of the date hereof, based on information currently available. Mako does not undertake to update any forward-looking information, except in accordance with applicable securities laws.
Neither the TSX Venture Exchange nor its Regulation Services Provider (as that term is defined in the policies of the TSX Venture Exchange) accepts responsibility for the adequacy or accuracy of this release.