Mako Mining Provides Q3 2023 Production Results
Mako Mining Corp. (TSX-V: MKO; OTCQX: MAKOF) ("Mako" or the "Company") is pleased to provide third quarter 2023 ("Q3 2023") production results from its San Albino gold mine ("San Albino") in northern Nicaragua, which is the ninth full quarter of production results since declaring commercial production on July 1, 2021. Financial results for Q3 2023, including detailed reporting of our operating costs, are expected to be released by next month.
Q3 2023 Production Highlights
47,732 tonnes mined containing 11,047 ounces of gold ("oz Au") at a blended grade of 7.20 grams per tonne gold ("g/t Au") and 13,931 ounces of silver ("oz Ag") at a grade of 9.08 grams per tonne silver ("g/t Ag")

26,982 tonnes mined containing 9,153 oz Au at 10.55 g/t Au and 11,209 oz Ag at 12.92 g/t Ag from diluted vein material
20,749 tonnes mined containing 1,894 oz Au at 2.84 g/t Au and 2,722 oz Ag at 4.08 g/t Ag from historical dump and other mineralized material above cutoff grade ("historical dump + other")
23.2:1 strip ratio overall which includes pre-stripping of the Southwest Pit and the commencement of the bulk sample at San Pablo and Mina Francisco

51,578 tonnes milled containing 10,997 oz Au at a blended grade of 6.63 g/t Au and 14,782 oz Ag at 8.91 g/t Ag

44% and 56% from diluted vein and historical dump and other, respectively
598 tonnes per day ("tpd") milled at 94% availability
Recoveries of 77.4% for gold in Q3 2023 (85.5% from September 1st)

134,608 tonnes in stockpile containing 10,379 oz Au at a blended grade of 2.40 g/t Au
8,601 oz Au Equiv. recovered and 5,698 oz Au. Equiv. sold during the quarter due to a temporary delay in third party refining which was resolved in October. 2,234 finished product inventory as of Sep 30th, 2023.
Akiba Leisman, Chief Executive Officer of Mako states that, "Since August 14th, after permits to begin mining Las Conchitas were received, and bulk sample mining was fully ramped up at Las Conchitas, the mine has been operating at record levels. September was an all-time record of 3,817 ounces recovered, and October is on pace to significantly exceed this. There was a substantial amount of unsold gold held in inventory at quarter end due to a temporary third-party refining issue, which will introduce some noise around our Cash Cost, Total Cost and AISC reporting when we report our Q3 financials next month. However, all of this unsold gold was liquidated last week at recent high gold prices, which will not only reverse this effect on reported costs for Q4, but the performance of the plant and mine will also lead to record Q4 financial results."
Table 1 – Production Results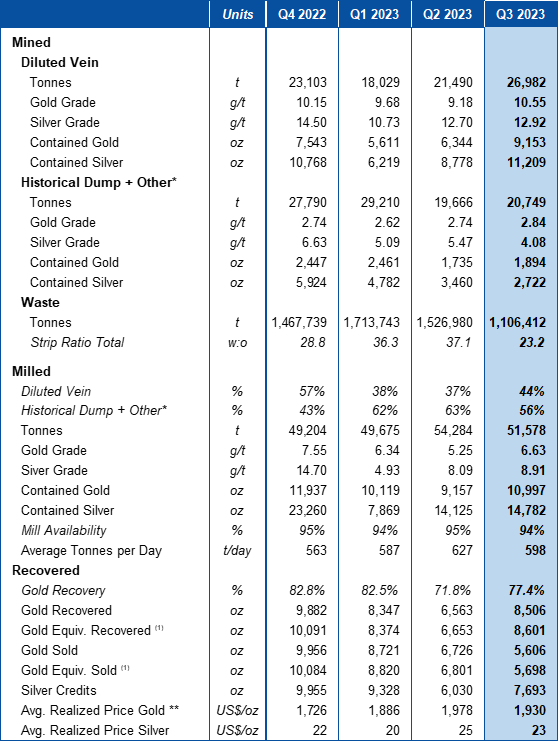 * Includes historical dump, hanging wall, footwall, historical muck and all other non-vein mineralized material above cutoff grade.
**For the purpose of calculating revenue, payments to Sailfish are deducted from the Average Realized Price.
(1) Equiv. Gold ounces are calculated by: Silver Rec. or Silver Sold (oz) / Avg. Realized Price of Gold (US$/oz) / Avg. Realized Price of Silver (US$/oz)
Table 2 – Quarter End Stockpile Statistics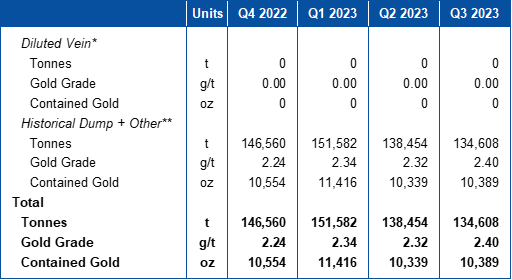 * Includes stockpiles of mineralized material at the crusher.
** Includes historical dump, hanging wall, footwall, historical muck and all other non-vein mineralized material above cutoff grade.
Mining
The mine averaged 519 tpd of diluted vein and historical dump + other material in Q3 2023 with a strip ratio of 23.2:1 which included pre-stripping of the Southwest Pit and the commencement of the bulk sample at San Pablo and Mina Francisco. The current stockpile is 134,608 tonnes containing 10,389 oz Au at 2.40 g/t Au.
79% of the total production of diluted vein material in Q3 2023 was mined from Phase 3 of the West Pit, 1% from the Southwest Pit, and 20% from Las Conchitas (San Pablo and Mina Francisco), respectively. We expect to begin extracting the high-grade diluted vein material from Bayacun and Dolores located at Las Conchitas South later this quarter. Las Conchitas South is considered to be the best part of Las Conchitas with a relatively low strip ratio and higher than average grades. A maiden resource estimate for Las Conchitas will be available in the coming weeks.
The average grade of the diluted vein was 10.55 g/t Au during the quarter. In the first half of the quarter, the Company didn't have access to initial production from the Las Conchitas bulk sample. After obtaining permits to begin mining this area, average grades extracted from the mine improved, and the quality of material extracted significantly reduced the amount of preg-robbing material reporting to the griding facility, which significantly improved the process plant recovery.
Milling
All components of the 500 tpd gravity and carbon-in-leach processing plant have been fully operational since the beginning of May 2021. During Q3 2023 the plant throughput rate was 598 tpd with a plant availability of 94%. The plant processed 44% diluted vein material and 56% historical dump + other material to achieve a blended feed grade of 6.63 g/t Au. The gold recovery improved from 71.8% in Q2 to 77.4% in Q3 (and 85.5% in September) due to enhanced residence time, reduced mill throughput, higher gold grade, and a reduction in the preg-robbing potential of the mill feed once material from Las Conchitas was available.
In the second half of Q3, tonnage from test pits from Las Conchitas began producing mill feed. The percentage of Las Conchitas in the overall mill feed is expected to increase during Q4. The early tonnage from Las Conchitas will primarily be oxide material with relatively low preg-robbing carbon which will contribute to an expected gold recovery improvement during Q4 compared to Q2 and Q3.
Temporarily delay from 3rd party refinery
Prior to the receipt of Las Conchitas mining permits, when the mill was operating with a 35% diluted vein material blend instead of the 50% diluted vein material blend, the Company had lower than planned head grades and higher than planned preg-robbing material, which led to lower gold production.
In addition, the locations in the pit mined during the quarter contained significantly higher deleterious elements than the overall deposit average resulting in much higher concentrations of these elements in the dore bars. Deleterious element content in the mined material is expected to return to deposit averages in the upcoming months.
In addition to minor penalties from the Company's third-party refiner, the high concentration of deleterious elements led to a 13-day delay in our gold sales process. This, in part, led to a 2,900 oz. difference between gold ounces recovered and gold ounces sold during the quarter. These ounces were sold later in October, and due to improvements in head grades and the normalization of the elution circuit, we no longer face this issue.
Since the Company reports Cash Cost, Total Cost and AISC based on gold ounces sold and not gold ounces recovered, this will have a negative impact on these accounting costs during Q3, and a positive impact on these accounting costs in Q4 relative to what they would have otherwise been. Serendipitously, because of this delay, the Company benefited from higher gold prices which were almost US$ 100 higher than where these ounces would have otherwise been sold.
Qualified Person
John Rust, a metallurgical engineer and qualified person (as defined under NI 43-101) has read and approved the technical information contained in this press release. Mr. Rust is a senior metallurgist and a consultant to the Company.
On behalf of the Board,
Akiba Leisman
Chief Executive Officer
About Mako
Mako Mining Corp. is a publicly listed gold mining, development and exploration company. The Company operates the high-grade San Albino gold mine in Nueva Segovia, Nicaragua, which ranks as one of the highest-grade open pit gold mines globally. Mako's primary objective is to operate San Albino profitably and fund exploration of prospective targets on its district-scale land package.
For further information: Mako Mining Corp., Akiba Leisman, Chief Executive Officer, Telephone: 203-862-7059, E-mail: aleisman@makominingcorp.com or visit our website at www.makominingcorp.com and SEDAR www.sedar.com.
Forward-Looking Information: Statements contained herein, other than historical fact, may be considered "forward-looking information" within the meaning of applicable securities laws. The forward-looking information contained herein is based on the Company's plans and certain expectations and assumptions, including that Q3, 2023 detailed operating costs and financial results will be available by the end of this month; the additional optimizations noted may improve recoveries further; and that the Company can operate San Albino profitably in order to fund exploration of prospective targets on its district-scale land package. Such forward-looking information is subject to a variety of risks and uncertainties which could cause actual events or results to differ materially from those reflected in the forward-looking information, including, without limitation; that the Company is not successful in operating San Albino profitably and/or funding its exploration of prospectus targets on its district-scale land package; political risks and uncertainties involving the Company's exploration properties; the inherent uncertainty of cost estimates and the potential for unexpected costs and expense; commodity price fluctuations and other risks and uncertainties as disclosed in the Company's public disclosure filings on SEDAR at www.sedar.com. Such information contained herein represents management's best judgment as of the date hereof, based on information currently available and is included for the purposes of providing investors with the Company's expectations regarding the Company's Q3 2023 production results at San Albino gold project, and may not be appropriate for other purposes. Mako does not undertake to update any forward-looking information, except in accordance with applicable securities laws.
Neither the TSX Venture Exchange nor its Regulation Services Provider (as that term is defined in the policies of the TSX Venture Exchange) accepts responsibility for the adequacy or accuracy of this release.