Further High-grade Gold Results at Las Conchitas, 5.65 m of 23.63 g/t Gold and 25.1 g/t Silver From Drilling and 2.60 m of 90.42 g/t Gold and 92.5 g/t Silver From Trenching
December 5, 2018

Mako Mining Corp. (TSX-V: MKO) (the "Company" or "Mako Mining") announces further positive drill and trench results from the Las Conchitas area of its wholly-owned San Albino-Murra Property (the "Property") located in Nueva Segovia, Nicaragua.
The goal of the 2018 drilling program at Las Conchitas was to confirm the sub-surface down-dip continuation of mineralization encountered in trenches and to test for additional veins within the near-surface oxide domain in the area. The Company has completed 49 shallow drill holes totaling 2191.74 metres. The results from the first 30 holes of the program were previously reported. (See the Company's press release dated November 28, 2018, also filed on SEDAR). This press release contains results from the remaining 19 holes totaling 824.55 metres drilled into the Cruz Grande and Mina Bonanza zones (see the attached map).
Further Highlights from 2018 drilling at Las Conchitas include:
•
Cruz Grande Zone
CG18-24
5.65 m of 23.63 g/t gold and 25.1 g/t silver (vertical hole)
CG18-25
4.15 m of 11.31 g/t gold and 12.2 g/t silver (vertical hole)
•
Mina Bonanza Zone
MB18-28
2.3 m of 10.17 g/t gold and 18.2 g/t silver (vertical hole)
MB18-38
1.8 m of 17.61 g/t gold and 31.2 g/t silver (vertical hole)
(Lengths are reported as core lengths. True widths vary depending on drill hole dip; the mineralized intervals shown above utilize a 1.0 g/t gold cut-off grade with no greater than 1.5 metres of internal dilution).
Highlights from trenching and underground sampling at Las Conchitas, within this press release, include:
•
EXP18-CG-04 (Cruz Grande)
1.0 m of 6.45 g/t gold and 3.7 g/t silver (vertical)
•
EXP18-SAM17-TR27 (Mina Bonanza)
2.6 m of 90.42 g/t gold and 92.5 g/t silver (vertical)
•
SAM18-TR-32 (Mina Bonanza)
1.0 m of 8.09 g/t gold and 14.5 g/t silver (vertical)
(the mineralized intervals shown above utilize a 1.0 g/t gold cut-off grade with no greater than 1.0 metres of internal dilution)
Kevin Bullock, Mako Mining's CEO stated "With these 2018 drill results, we are confident that the Las Conchitas area is part of the same mineralized system as the San Albino Gold Deposit, as they share similar styles of mineralization, widths and general morphology. We are excited to begin to prioritize these zones for further drilling in the new year, with the goal to define new gold deposits and increase the overall gold resources. The high-grade gold results bode very well for further drilling and demonstrate the high-grade nature of the mineralization along the Corona de Oro Gold Belt. The 23-kilometre-long Corona de Oro Gold Belt spans the entirety of Mako Mining's 138km2 land holdings and this drilling has only tested a few of the large number of targets within the Company's property".
Las Conchitas is situated between two past-producers, San Albino Mine and El Golfo Mine. It lies only 500 meters south of the San Albino Gold Deposit, which the Company is planning to develop, and operate on a 500 tonne per day mining and milling basis (see insert map). The San Albino Gold Deposit, covers only 0.6 square kilometres of the Company's highly prospective 138 square kilometre land package.
The conceptual model for the Las Conchitas mineralization consists of multiple parallel quartz veins that dip gently to the northwest, associated with extensive shear and fault systems which represent feeders for mineralized fluids and a favourable environment for precious metal deposition. These characteristics are consistent with the model for orogenic gold-bearing veins which often extend to depths in excess of a kilometre. Drilling at the San Albino Gold Deposit has already established down-dip continuity of gold mineralization for over 900 meters and it still remains open. Gold mineralization is not restricted solely to quartz veins, but also occurs in the host rock (phyllite/schist) containing quartz veinlets.
Cruz Grande/Mina Bonanza Zones
The Cruz Grande zone has been the subject of limited historical exploration despite the evidence of historic workings and the presence of several surficial gold showings within the area. Recent drilling at this zone has confirmed the company's structural model, where parallel veins, with an overall northeast–southwest trend, occur within highly strained zones, containing various sulphides and visible gold. The drilling campaign was successful in intersecting considerably higher grades and greater widths than previously reported in trenches EXP17-SAM12-TR-11 and SAM17-TR-18, where vertical sampling returned 1.0 m of 12.58 g/t gold and 11.2 g/t silver and 1.5 m of 13.20 g/t gold and 6.5 g/t silver respectively (see Golden Reign Resources Ltd. news release dated January 25, 2018), and extended the surface mineralization to more than 50 metres down dip. The best results are as follows: CG18-24 grading 5.65 metres of 23.63 g/t gold and 25.1 g/t silver and CG18-25 with 4.15 metres of 11.31 g/t gold and 12.2 g/t silver.
During the 2018 drill campaign, the Company also sampled drill pads and sumps (for return water). At the Cruz Grande Zone, sampling of the host rock (phyllite) containing quartz veinlets and narrow veins (0.1-0.2 metres wide) confirmed gold mineralization immediately at the surface. The best results from drill pads EXP18-CG-01 and EXP18-CG-04 returned 1.2 metres of 4.08 g/t gold and 14.2 g/t silver and 1.0 m of 6.45 g/t Au and 3.7 g/t Ag, respectively. Drill intersection modeling shows a branching or anastomosing structure with two or three separate veins. This narrow veining and branching of the mineralized zone at the surface may explain the lack of interest by the previous explorers. The veins could potentially be treated as a single wide zone amenable to open pit mining.
The Mina Bonanza zone comprises two historical collapsed tunnels and several exploration pits, possibly developed in late 1940's and early 1950's. These workings targeted surficial quartz veins, characterized by high-grade gold mineralization (samples of dump material at the entrance to collapsed tunnels contain visible gold with one sample returning 9.8 g/t Au and 16.5 g/t silver). In order to allow better definition and delineation of the mineralized shoots, the Company excavated an exploration pit EXP18-SAM17-TR27 and systematically sampled it, returning a best result from a vertical sample of 2.6 metres of 90.42 g/t gold and 92.5 g/t silver. Two vertical drill holes, MB18-28 and MB18-29, collared approximately 30 metres northwest of the pit, intersected the mineralized vein at only 3 m depth and returned the following results: 2.3 metres of 10.17 g/t gold and 18.2 g/t silver; and 2.4 metres of 7.57 g/t gold and 9.3 g/t silver, respectively. Trenching appears to be a more adequate method of exploration for this zone. Follow up exploration will be conducted by trenching which is a more appropriate method in this area of shallow dipping veins, closely following topography. Consequently, the company intends to expose the entire area between these drill holes and the exploration pit. Drill hole MB18-38 (vertical), situated approximately 120 metres northwest of the exploration pit, intercepted the mineralized zone at 35 metres depth and returned 1.8 metres of 17.61 g/t gold and 31.2 g/t silver.
Trenching and drilling to date suggests the presence of a local domal structure which may control the high-grade gold mineralization. The Cruz Grande and Mina Bonanza zones are located on opposing sides of a ridge and could reflect two limbs of the fold.
For a list of the complete 2018 exploration results, please see the tables titled "2018 Las Conchitas Drilling and Trenching Results" available on our website at www.makominingcorp.com.
Metallic Screen Analysis
Due to the coarse nature of the gold, the Company has used 500-gram metallic screened gold assays for analyzing all of the mineralized intervals within its 2018 drilling and trenching programs. This method which provides a larger sample can be more precise in high-grade vein systems containing coarse gold. Screen metallic analysis determines the content in both the coarse and fine material after the screening process, whereby the coarse material analysis is done separately, with the fine material usually analyzed in duplicate to achieve an average value. If metallic screen analysis was not performed, the nugget effect in samples would produce extremely high gold assays which would not be representative and reproducible. The procedures for metallic screen assays are as follow:
Samples are dried and crushed to -10 mesh, riffle split to 500 grams which is pulverized, the coarse fraction of which is then screened out by using a 150 mesh size screen. The entire +150 mesh and 2 portions of minus fraction (30 grams each) are assayed separately using a standard 30 gram assay and a combined total gold in grams per tonne is calculated based on the weight of both fractions. Because of the nugget effect of the coarse gold present on the property, sometimes the +150 mesh sample was analyzed a third time when the assays were not similar. This third assay was included in the final +150 mesh assay average.
The mineralized intervals shown above utilize a 1.0 g/t gold cut-off grade. The results presented above are preliminary in nature. There has been insufficient exploration to date to estimate a "Mineral Resource", as such term is defined in National Instrument 43-101 "Standards of Disclosure for Mineral Projects". There is no certainty that further exploration will result in the identification of Mineral Resources.
QA&QC Procedures
The Company follows industry standards in its QA&QC procedures. A certified standard sample, or a blank or a field duplicate sample is inserted every 10 samples before the set of samples are sent to the Laboratory. This procedure is applied to all drill and trench samples.
Qualified Person
John M. Kowalchuk, P.Geo, a geologist and qualified person (as defined under NI 43-101) has read and approved the technical information contained in this news release. Mr. Kowalchuk is a senior geologist consulting to the Company.
On behalf of the Board,
"Kevin Bullock"
Kevin Bullock, P.Eng.
CEO
About Mako Mining:
Mako Mining Corp. ("Mako" or the "Company") is a publicly listed gold mining, development and exploration firm. It operates the producing La Trinidad open-pit, heap leach gold mine in Sinaloa State, Mexico and is developing its San Albino gold project in Nuevo Segovia, Nicaragua. Mako's primary objective is to bring San Albino into production quickly and efficiently, while continuing exploration of prospective targets in both Mexico and Nicaragua.
Currently, Mako is exploring for gold and silver mineralization on more than 60,200 hectares (602 km2) land holdings in Sinaloa State, Mexico and on 13,771 hectares (138 km2) at the San Albino-Murra and El Jicaro properties, both in Nueva Segovia, Nicaragua. The Corona de Oro Gold Belt, approximately 3 kilometres wide by 23 kilometres long, contains hundreds of historical mines and workings and spans the entirety of the Company's Nicaragua land package.
For further information: Mako Mining Corp., Kevin Bullock, Chief Executive Officer, telephone: (416) 408-3703, email: kbullock@makominingcorp.com or visit our website at www.makominingcorp.com and SEDAR www.sedar.com.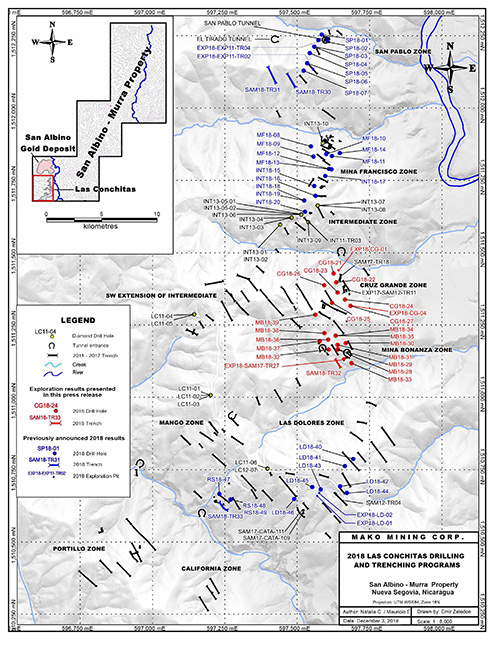 Forward-Looking Statements: Some of the statements contained herein may be considered "forward-looking information" within the meaning of applicable securities laws. Forward-looking information is based on certain expectations and assumptions, including the assumption that the Company's exploration program will be successfully completed, and are subject to known and unknown risks and uncertainties. Such forward-looking information is subject to a variety of risks and uncertainties which could cause actual events or results to differ materially from those reflected in the forward-looking information, including, without limitation, the risk that satisfactory exploration results will not be obtained, the risk that exploration results will not translate into the discovery of an economically viable deposit, risks and uncertainties relating to political risks involving the Company's exploration and development of mineral properties interests, the inherent uncertainty of cost estimates and the potential for unexpected costs and expenses, commodity price fluctuations, the inability or failure to obtain adequate financing on a timely basis and other risks and uncertainties. Such information contained herein represents management's best judgment as of the date hereof, based on information currently available.
Neither the TSX Venture Exchange nor its Regulation Services Provider (as that term is defined in the policies of the TSX Venture Exchange) accepts responsibility for the adequacy or accuracy of this release.