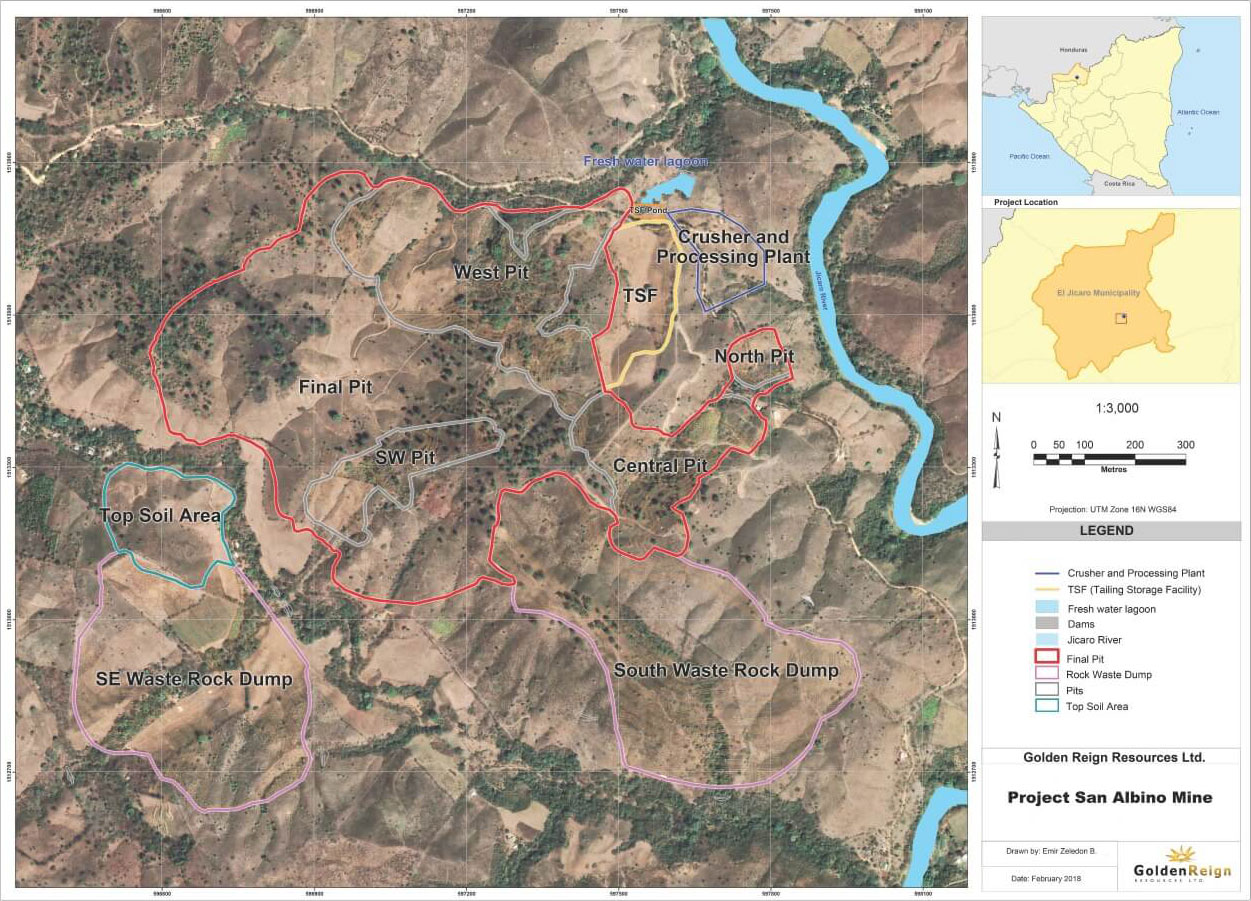 Located near the southwest end of a 23-kilometre-long mineralized trend defined by Mako Mining, within the company's permits, as the Corona de Oro Gold Belt, the San Albino Gold Deposit (the "Project") offers the potential to establish a financeable, low-cost, profitable cornerstone operation. Given the Company's keen understanding of the structure and mineralization, along with the success of its exploration model used to develop the Project area to date, Mako Mining is poised to potentially replicate this success in other already defined, highly prospective areas of the property. The Project represents only 2% of the Company's Nicaraguan landholdings.
The San Albino Gold Deposit is a low-tonnage, high-margin gold project with a robust estimated average mined diluted grade of 8.02 grams per tonne (g/t) gold equivalent (AuEq). Owing to its high-grade nature and excellent preliminary gold recoveries, the Project shows strong resilience to variances in gold prices, thus mitigating risk. The San Albino deposit contains a significant mineral resource estimated at 156,100 ounces (oz) of gold and gold equivalent silver in the Indicated categories contained within 678,000 tonnes, with an additional 806,100 ounces of gold and gold equivalent silver in the Inferred category contained within 3,067,000 tonnes.
Mako Mining has completed comprehensive testing at the San Albino Gold Deposit, including detailed metallurgical test work, detailed environmental test work, acid rock drainage (ARD) testing, closely spaced resource definition drilling, and condemnation drilling, along with additional surveys (geotechnical, air quality control, and water quality control). The San Albino Gold Deposit is fully permitted for up to a 500 tpd open-pit commercial gold-processing operation.
The Preliminary Economic Assessment (PEA), delivered March 2015, has progressed the San Albino Gold Deposit to an advanced level that includes metallurgical studies and detailed processing operating and capital expense estimates. The full document can be found on SEDAR; highlights are as follows:
| PEA Highlights | @ 500 tpd |
| --- | --- |
| After-tax and royalties internal rate of return (IRR) | 54.2% |
| After-tax net present value (NPV) | |
| @ 5% discount | $173.9M |
| @ 8% discount | $126.4M |
| @ 10% discount | $103.2M |
| Payback period | 1.7 years |
| Mine Plan Highlights | |
| Initial capital expenditures, including $2.3M contingency (20%) | $21.1M |
| Average mined diluted grade | 8.02 g/t AuEq |
| Potentially Mineable Diluted Tonnes | |
| Indicated – 598,000 tonnes | 7.11 g/t AuEq |
| Inferred – 2,174,000 tonnes | 8.27 g/t AuEq |
| Production Highlights | |
| All-in sustaining cost gold equivalent (AuEq) | $395/oz |
| Cash costs AuEq | $359/oz |
| Life of mine (LOM) gold production AuEq | 675,345 oz |
| Average annual gold payable production AuEq | 41,300 oz |