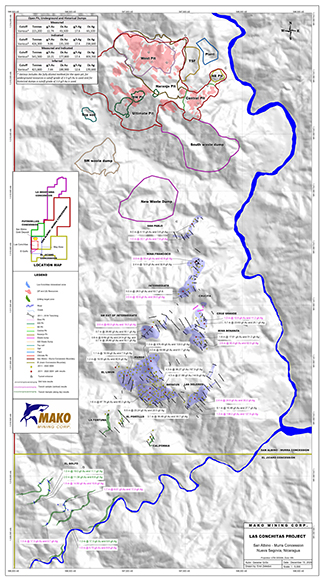 The Las Conchitas area is located immediately south (2.5 km) of Mako's high-grade San Albino Gold Deposit and is situated near the southern end of the Corona de Oro Gold Belt, a corridor 3 km wide by 23 km long, bearing hundreds of historical mines and workings.
Exploration activities by the Company identified at least seven highly mineralized structures within the Las Conchitas area, with strike lengths ranging from 500 m to more than 1 km, all located within a roughly 2.5 sq. km area.
Mako has completed a significant trenching program at Las Conchitas covering 4,300 m in 134 trenches and exploration pits.
The preliminary metallurgical testing (gravity recovery followed by the cyanidation of gravity tailings), from composite trench samples at Las Conchitas, returned very positive results averaging:
95.7% gold and 68.5% silver recovery, grading on average 8.70 g/t Au and 20.10 g/t Ag.
These are excellent preliminary results and are comparable to those reported for the San Albino Gold Deposit.
Drilling at Las Conchitas has confirmed down-dip continuity of highly mineralized zones identified by trenching. Specifically, a 2,000 m diamond drilling program was completed in 2018 and a 6,100 m diamond drilling program was completed in 2019. Drilling program underway to delineate a maiden resource at Las Conchitas.
Las Conchitas Drill Hole Database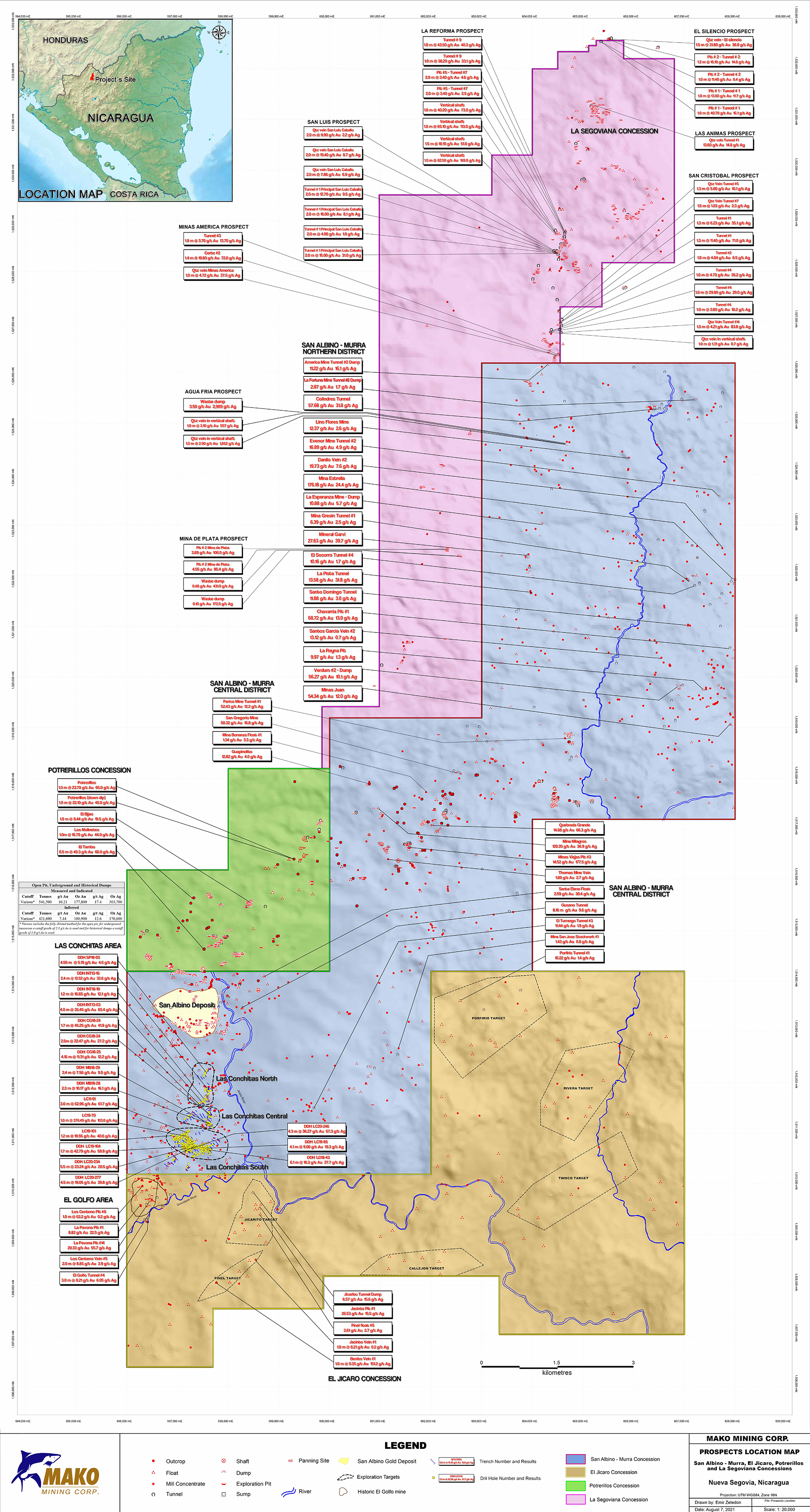 In October 2012, Mako acquired the nearly 5,100-hectare El Jicaro Concession, which lies contiguous to the south of the San Albino-Murra Concession. Historical mining and production in this area, primarily at the El Golfo mine in the early 1900s, was ongoing while the historic San Albino mine was being developed. The El Golfo mineralization is on strike with that of Las Conchitas area to the north.
Preliminary sampling of veins indicates that they are similar in size and grade to Las Conchitas and San Albino. The Company recently received an environmental permit to conduct 100,000 m of drilling and 20,000 m of trenching.
Reconnaissance sampling results:
A continuous 5.5 m underground channel sample from the partially collapsed Tunnel #2 returned 12.33 g/t Au and 25.6 g/t Ag
Grab samples from the 7.5 m wide quartz vein in Tunnel #2 returned between 1.2 and 10.77 g/t Au
Two representative grab samples from a sizable mine dump returned 10.34 g/t Au and 12.8 g/t Ag, and 3.66 g/t Au and 7.2 g/t Ag
A representative grab sample from a sizable mine dump returned 26.53 g/t Au and 15.5 g/t Ag
The historical El Golfo mine is the most advanced area within El Jicarro. Until it was flooded in 1915 and rendered useless, the El Golfo stamp mill operated with stamps of 20 by 500 pounds, processing ore with a mill head grade of 21.56 g/t Au (0.63 ounce per ton). Flooded underground workings later collapsed, ending all activities at the mine. A large portion of mineralized rock from these partially mined veins is still present. (1)
A reported 16 gold-bearing veins were outlined by surface and underground workings, with a strike length of up to 150 m and vein widths ranging from 5 cm to 4.5 m. Mineralization is similar to that at the San Albino Gold Deposit. Some of the veins were developed by tunnels, but only a small portion of the mineralized veins was actually mined out. Mineralized pillars left in the mined-out areas would be recoverable in an open-pit mining scenario. Most of the veins are untouched.
This information is historic and is not 43-101 compliant. It should not be relied on.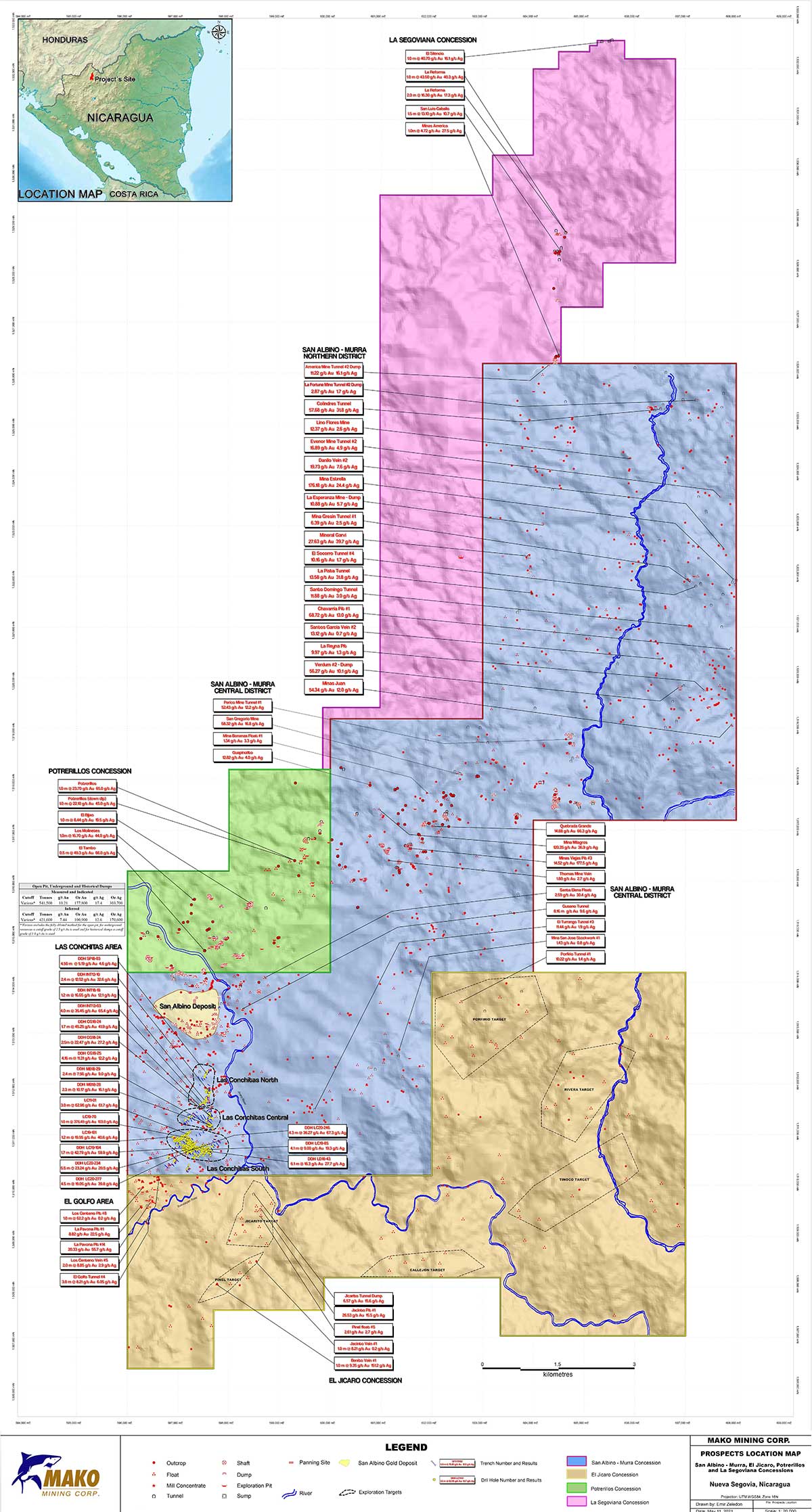 The San Albino–Murra Concession hosts numerous newly discovered near surface gold prospects. These underexplored districts offer excellent exploration potential.
Sampling of Historical Mines and Workings
At a number of historical showings—Mina Estrella, Santos Garcia, Veta Danilo, Mina Chevarria, and Cata Reyna—old mine adits have been opened and the veins exposed. Specifically, samples have returned the following grades and thicknesses as follows:
Mina Estrella – 24.75 g/t Au over 5 m (including 112.09 g/t Au over 1.1 m and 176.18 g/t Au over 0.7 m)
Santos Garcia – 21.29 g/t Au and 3.8 g/t Ag over 1 m
Veta Danilo – 13.99 g/t Au and 5.46 g/t Ag over 3 m
Cata Reyna – 34.62 g/t Au and 17.8 g/t Ag over 4 m
Mina Chavarria – 30.88 g/t Au over 0.8 m
Initial sampling and mapping of numerous other prospects and old workings (Mina Perico 21.61 g/t Au over 1.7 m and Mina Milagros 120.35 g/t Au and 36.9 g/t Ag over 1.0 m) have established that gold mineralization is distributed in the host rock containing sheeted quartz veinlets, as well as in the main quartz veins. Quartz veinlets located in proximity to quartz veins very often contain coarse visible gold (i.e., Mina Milagros).